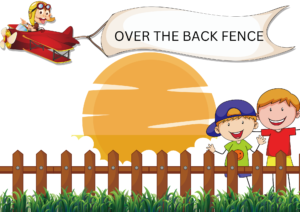 If you call and cannot get through on the telephone and/or you'd like to advertise your items on Over the Back Fence bring a printed copy of your items to the I105.3 studios at 22 E McClain Ave Scottsburg, IN 47170. We'll post your items on this website for 7 days.
THE RULES
YOU CANNOT BE A COMMERCIAL MERCHANT, IF YOU HAVE REAL ESTATE FOR SALE IT CANNOT BE LISTED WITH A REAL ESTATE AGENT, NO SERVICES CAN BE ADVERTISED ON OVER THE BACK FENCE, ANY ANIMALS RAISED AND SOLD FOR ANY PROFIT CONSTITUES A BUSINESS AND THEREFORE IS A COMMERCIAL MERCHANT, PLEASE LIMIT CALLES TO 30 SECONDS, ONE CALL PER HOUSEHOLD PER PROGRAM, PLEASE HAVE YOUR RADIO TURNED DOWN, REPEAT YOUR NUMBER TWICE AND SPEAK CLEARLY, WE WILL WRITE DOWN THE NUMBER AS WE HEAR IT
PRESENTED TO YOU BY:Friday September 29, 2023
BARN SALE 5470 S SUMMERVILLE ROAD ON SATURDAY 9-3 812-595-6742
SALE ON SATURDAY AND SUNDAY MOVING SALE LOTS OF WICKER, DREAM CATCHERS, APPLIANCES AND MISC JOHNNY JOHNSON AND SHAY RD 820-9398
GOOD USED PREHUNG ENT DOOR 812-794-4712
812-820-2906- TWO FAMILY YARD SALE, GRASSY MEADOW COURT SIGNS UP HAPPENING SATURDAY 8-3PM

JOHN DEERE RLM 18, PORTABLE HEAD CHUTE, MAG WHEELS AND TIRES R18, FORD F150, GRAVITY BED WAGON, CALL AFTER 2 812-866-2289
YARD SALE NEXT TO DON'S TERRY FISH FRY FRIDAY, SATURDAY
SMASH PARTY SCOTT CO FAIRGROUNDS SATURDAY AND SUNDAY 10-7PM FOOD AND DRINKS
YARD SALE 3366 SR 203 FRIDAY AND ALL NEXT WEEK, ALL KINDS MISC 812-820-1978
GARAGE SALE TODAY, CHRISTMAS AND ORNAMENTS AND STUFFED ANIMAL'S TOOLS 1479 E GOENS ROAD, OFF SLAB RD, 8-5
MOVING SALE 136 N MICHAEL DRIVE BOOKCASES PICTURES AND BEDS AND MISC 812-832-0545
TWO TV'S POLAROID AND SAMSUNG FLAT SCREENS $100, SHOES 7-8 ROMANCE BOOKS 812-292-4642

MEDICAL EQUIPMENT WHEELCHAIR, LIKE NEW, BEDSIDE COMMODE AND WALKER, SINGER SEWING MACHINE, 5000 BTU A/C, 812-889-3305
YARD SALE OF HIGHWAY 56, SOUTH LYON ROAD SATURDAY, LOTS OF STUFF, CLOTHES 812-595-3082
WINC 1300 12 G 812-493-6891
FREE ITEMS, PING PONG TABLE, DIAPERS COMMODE, 812-913-2391
FREE KITTENS-ELECTRIC/PLUMBING AND 812-889-0011
WOOD FURNACE TAYLOR, 812-595-2818
PUPPY FREE BOSTON TERRIER, DACHSUND AND 812-820-2054
TIMBER 812-294-7698
WINCHESTER 12 G MODEL 12 812-844-7146
YARD SALE 1190 E CUTSHALL RD, FRIDAY THROUGH SUNDAY MISC
YARD SALE 701 S GRDNER TILL 4PM
FREE PIANO NEED MOVERS WORK OUT EQUIPMENT IN BOX, 100, 812-722-
8683
96 OR 97 BOAT TRAILER, TITLES 18' RUN ABOUT BOAT, NEW WINCH $2000 FIRM, 812-595-7079, LU4 WOOD, FOR CAMPING

Thursday September 28, 2023
GOOD USED ENTRANCE DOOR 812-794-4712
4 TRUCK TIRES R 17, LESS THAN 6000, MILE 812-801-7862
CUB CADET RLM 50" CUT EXCELLENT 812-832-0091
1999 CHEVY PICK UP 2500 HD, LONG BED NEW TIRES $1500 NEEDS NEW MOTOR, HORSE TRAILER PLATE 502-762-8013 OTISCO
AIR HOCKEY TABLE $150, TWO MC HELMETS $50 812-820-3133
YARD SALE THU AND FRI 8-5 1479 E GOENS ROAD, CHRISTMAS ITEMS AND OTHER MISC STUFF ANIMALS AND GLASSWARE
MOBIITY LIFT BACK OF VEHICLE IN RECIEVER HITCH, 812-820-4578
DIAMOND RING SIZE 9 S/T MOWER, 812-595-7429
NEED A DRIVE AROUND CAMPER UNDER $5000, 812-707-1457 IN SEYMOUR
BASS TRACKER 2005 LTD, 90 HP MERCURY $7000, CUB CADET RLM 380 502-221-5193
JOHN DEERE 125, TF 35 4 D HUSKY 45" CUT, $1200, 812-216-1601
YARD SALE 1190 E CUTSHALL RD, FRI SAT AND MAYBE SUNDAY, LOTS OF DIFFERENT

AIR CONDUCTING FILTER KIT, FOR CAMARO, ONE FOR A CIVIC, AND NISSAN INFINITY, WHOLE KITS, CALL 812-525-6410
TOTES FOR SALES BIG AND CLEAN $12, HOTPOINT STOVE WHITE ELECTRIC $400 812-820-9033
VEGA, 1973 DODGE CAMPER, MOTOR IS GOOD CAMPER IS SHOT, SELL 812-525-7793
55" VIZIO TV, WITH STAND, $250, LG TV $100, ROLLAWAY BED $75, KITCHEN AID DISHWASHER $100, SIDE BY SIDE $2200 812-718-1895
PUSH MOWER, ONE ELECTRIC AND ONE RECHARGEABLE 14" $40, 812-525-6410
GRAVITY BED 650, JOHN DEERE TRACTOR $100,$100 MAG RIMS AND TIRES 2010 F150, 812-866-2289
BLACK ENT CENTER NEW, BUILT IN MICROWAVE, 812-902-4316
TWO RECLINERS AND OTHER FURNITURE, 812-820-375

Wednesday September 27, 2023
Infants Door 812-794-4712
Corn Hole Boards 812-595-9738
Camper, Shop Set 502-615-3924
Garage Sale Tomorrow and Friday 1479 E Gowens Rd.
TVs, Shoes, Looking for Electric Stove 812-292-4642
Electric Organ, Gas Grill, Trash Barrel 812-752-4629
Queen Size Bed, Moving Sale 136 N. Michael Dr. 812-832-0545
Senoma GMC, Suzuki, Dodge Pickup, Kowazaki Ninja, Ford Flex, Ford F150 812-820-3301
Pet Beds, Work Lights, 812-341-9577

Guns, Trailer, Tires 812-801-5989
Boat Trailer, Paint Sprayer 812-701-1030
Looking for somewhere to rent 812-416-6683
Gun 812-493-6891
Stove 812-820-9033
TV w/ Stand, Rollaway Bed, Dishwasher 812-718-1895
Looking for Standing Timber 812-294-7698

Bike Wheels, Diesel Exhaust Kit 812-358-5018 or 812-521-2560
Looking for Fishing Boat 812-493-6224
Rifle, Shotguns 812-820-1534
Wood Stove 812-595-5589
Yard sale Saturday 105 E Main St in Henryville 2007 Honda Shadow 812-820-0810
CAL-KING HEADBOARD/FOOTBOARD WITH FRAME $100, TWIN SIZE CAPTAINS BED WITH 4 DRAWERS AND CABINET INCLUDES BOOKCASE HEADBOARD $200 559-362-5497

Tuesday September 26, 2023
DEPUTY YARD SALE 14261 W MAIN STREET LOTS OF STUFF CHEAP
IU AND UK GOLF SETS 125 SE 812-595-9738 1199 S LAKE RD SOUTH
BAKER RACK, METAL AND WOOD SHELVES, NEEDS A LARGE KITCHEN $35 812-707-1457 SEYMOUR
3 ORANGE KITTENS NEED HOME FREE 812-595-6202
YARD SALE 4880 E SR 56 CHRISTMAS AND CHRISTMAS STUFF JUICERS AND GUNS AND KAYAK
VENDOR EVENT AT NEW HARMONY BAPTIST CHURCH JACK MORGAN AND HARROD ROAD IN AUSTIN WITH MANY BOOTHS CHRISTMAS SHOP EARLY AND FOOD AVAILABLE
YARD SALE INDOOR 425 N 31, 8-1PM FRI SAT
TIMBER OAK AND WALNUT 812-294-7698
GUN FOR SALE ANDERSON AR 15, 2 ½ BX AMMO $775 812-820-0966
5470 S SUMMERVILLE RD IN UNDERWOOD GARAGE SALE CLEANING OUT BARN AND TRAILERS AND TOOLS AND CROCKS 812-595-6742
BUY A 17' BASS TRACKER 60 HP MERURY 812-493-6224
TOTES CLEAR FOR SALE $12, HOT POINT STOVE 812 820-9033
YArD SALE 288 BROADWAY FRI AND SAT
07 SUZUKI FIRENZA, 96 DODGE TRUCK, MC, 09 FORD FLEX, 06 F150, 2019 POLARIS 17, 000 NEW TRANSMISSION 812-820-3301
CHAIN SAW FOR SALE 16" HUSKY SET OF RAMPS AND TWO EXTERIOR DOORS 36X80 AND TOOLS AND LOG CHAINS 812-889-1009
CAMPER FOR SALE BUMPER PULL, ALL EQUIPMENT, 80 N BEECHWOOD 752-6236
YARD SALE 25N FINLEY FIRE HOUSE ROAD, FRIDAY
GAS GRILL FOR SALE W COVER, TWO PATIO LOUNGE CHAIRS, 812-752-4629
YARD SALE 1190 E CUTSHALL RD LOTS OF STUFF YARD SALE STUFF TILL ITS GONE ANTIQ DISHES AND COPY OF LAST WILL AND TESTAMENT AND TOOLS 810-990-4728 2842 S GEMTOWN LN SCOTTSBURG
MOBILITY LIFT 2" REC BEHIND CAR OR TRUCK WORKS EXCELLENT, 812-
595-7429
GAS STOVE $50, CRAFTSMAN RLM RUNS GOOD 18 ½ MOTOR, WRINGER WASHER $50, MISC ELECTRIC STUFF, HEDGE TRIMMER AND BLOWERS AND CULTIVATORS AND DETHATCHER $30 Y OUR CHOICE, 20' TRUCK TIRES 812-595-7555
LIGHTS HIGH IMPACT RESISTANT 12 V 55 HALOGEN SWIVEL MOUNT 3 PET BEDS NEW, ORTHOPEDIC 812-341-957
CAL-KING HEADBOARD/FOOTBOARD WITH FRAME $100, TWIN SIZE CAPTAINS BED WITH 4 DRAWERS AND CABINET INCLUDES BOOKCASE HEADBOARD $200 559-362-5497